The Minnesota Historical Society provides access to 28 Swedish-American newspapers published between 1859 and 2007. These newspapers were published for the Swedish immigrant communities. More than 300,000 digitized pages are available for searching and browsing. There is a text correction tool that you can use to correct mistakes. There is also a user annotation tool, which can be used to add comments and tags.
I found some interesting things in this collection. My ancestors attended the
Bethlehem Lutheran Church
in Chicago, and news from the church was published. My great-grandfather
Edward Theodore Anderson
and his brother-in-law Carl Dahlquist were elected to serve as deacons. My 2nd-great-grandfather
C. J. Dahlquist
(Carl's father) was in the
Anti-Saloon League
(something that I was previously unaware of).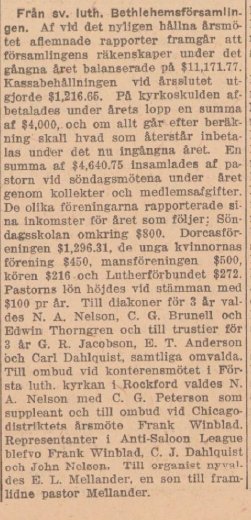 Svenska Amerikanaren, 18 January 1917, page 15
I found a death notice for C. J. Dahlquist's son
Martin L. Dahlquist
.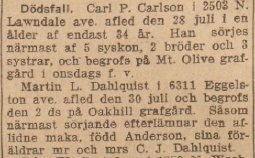 Svenska Tribunen-Nyheter, 6 August 1919, page 12
C. J. Dahlquist's brother
Frank A. Shirlander
and his wife were attacked by a former employee in 1905. The incident was reported in two Swedish-American newspapers.

Svenska Amerikanaren, 30 May 1905, page 11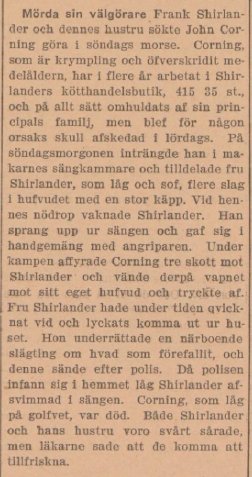 Svenska Tribunen, 31 May 1905, page 11
If you have Swedish ancestors who immigrated to the United States, this collection is worth a look. The collection can be accessed at
http://www.mnhs.org/newspapers/swedishamerican
.