On 28 May 1905, my
great-great-grandfather
's brother Frank A. Shirlander and his wife Jennie (Hart) Shirlander were attacked by John Corning, their former employee. Corning's right leg had been amputated, and he walked with the aid of crutches. He had worked at the Shirlanders' grocery and meat market in Chicago, Illinois, and boarded in a room which adjoined the Shirlanders' residence. He had argued with the couple several weeks before the attack.
Corning entered the couple's home, using a cane to walk instead of his crutches. He entered the couple's bedroom and began striking Jennie Shirlander with the cane. Frank Shirlander woke up when he heard the attack. Frank tried to stop Corning, but Corning shot him three times (in the shoulder, chest, and cheek). Corning then used the gun to commit suicide.
Frank was taken to
Provident Hospital
. Jennie stayed with her brother, Fred Hart, who lived nearby.
The incident was reported in the 29 May 1905 issue of the
Chicago Tribune
.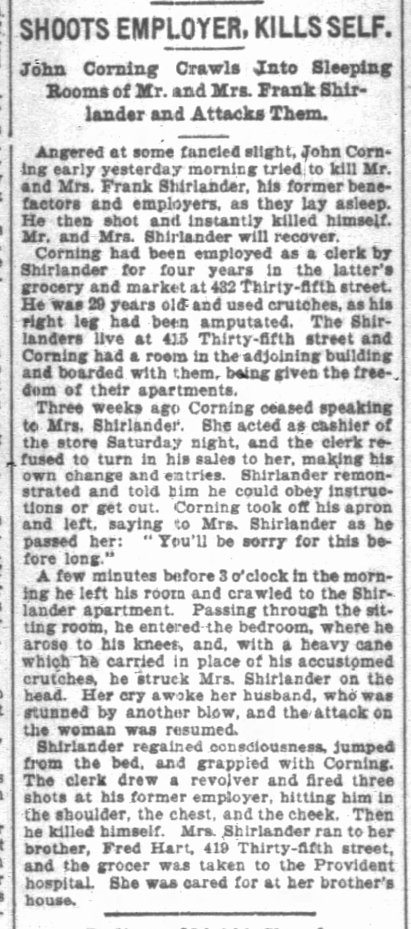 Chicago Tribune, 29 May 1905, page 8
The incident also received coverage in out-of state newspapers, such as the
Cortland Standard
, a Central New York newspaper.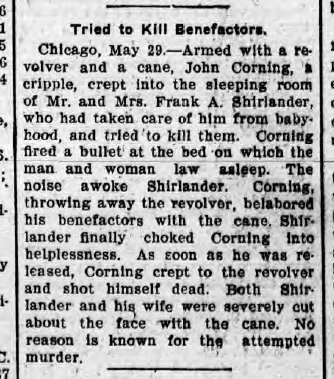 Cortland Standard, 29 May 1905, page 1
Although this report states that the Shirlanders had taken care of John Corning from babyhood, I could not find any evidence to support this claim. The
Chicago Tribune
article stated that Corning had worked for the Shirlanders for four years. In 1900,
the Shirlanders' household
did not include John Corning. Based on his age and profession, I think that the John Corning who attacked the Shirlanders was
living with his brother and sister
in 1900.