I have previously written about my great-grandfather
John Schneider
's sister
Marie (Schneider) Illig
, who died of bronchopneumonia due to influenza during the
1918 pandemic
. Marie was not my only relative that died in the pandemic; Michael Joseph Gatlin, brother of my great-grandfather
Henry Brown Gatlin
, also died of bronchopneumonia.
In 1918, the Gatlin family lived in Chicago, Illinois. On 1 October 1918,
374 cases of influenza were reported
to the Public Health Service by the Illinois Health Officer. The 2 October 1918 issue of the Chicago Daily Tribune reported the effects of the disease on hospital staff.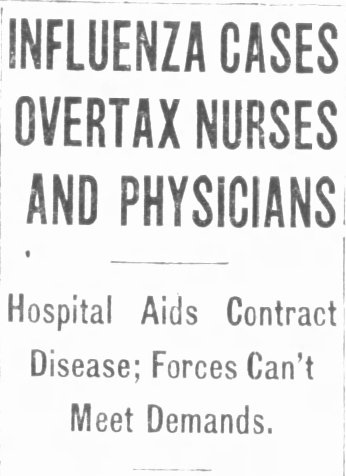 Chicago Daily Tribune, 2 October 1918, page 17
By 9 October 1918, 135 people had died as a result of the influenza pandemic.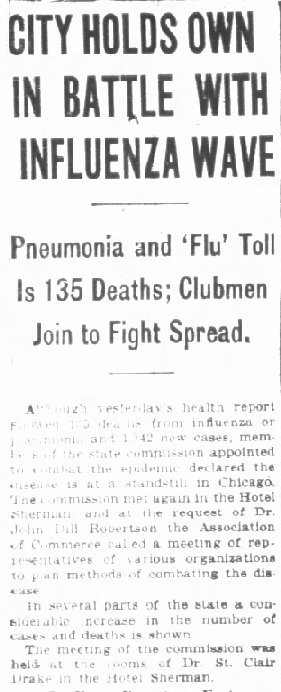 Chicago Daily Tribune, 9 October 1918, page 8
On 10 October 1918, there was another death: Michael Joseph Gatlin. He died of bronchopneumonia at
Augustana Hospital
. Dr. S. J. Burrows had attended him on October 9 and 10.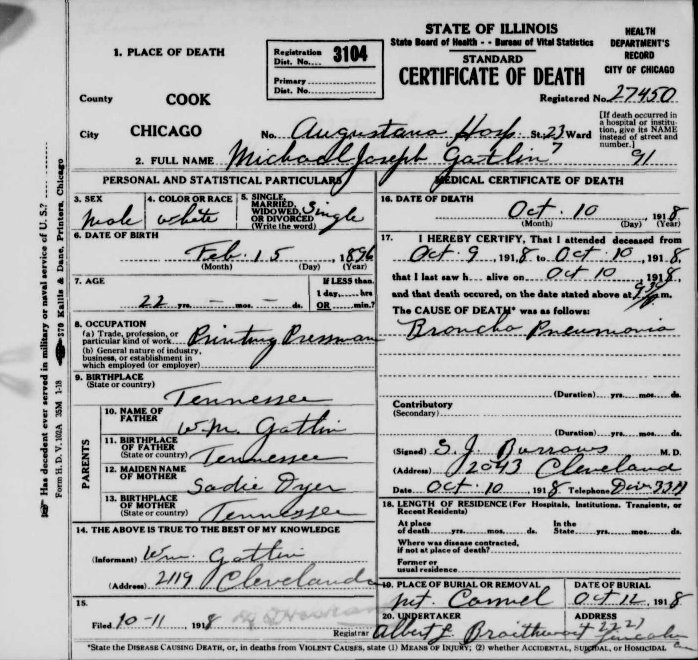 Illinois State Board of Health. Bureau of Vital Statistics. Death certificate no. 27450, Michael Joseph Gatlin, 1918.
Michael was only 22 years old at the time of his death. Like many members of his family, he had worked in the printing industry. He was buried in Mount Carmel Cemetery in Hillside, Cook County, Illinois.

Chicago Daily Tribune, 12 October 1918, page 11