Mary Winters, the daughter of my 4th-great-grandparents
Hugh Winters
and Mary Bennet, was born 176 years ago today, on 27 November 1840. She was baptized on 13 December 1840 at St. Mary's Cathedral, Edinburgh, Scotland. The baptismal sponsors were John Finegan and Cath Boylan.
She arrived in New York, New York on 12 June 1849 on the Pursuit with her father and most of her siblings.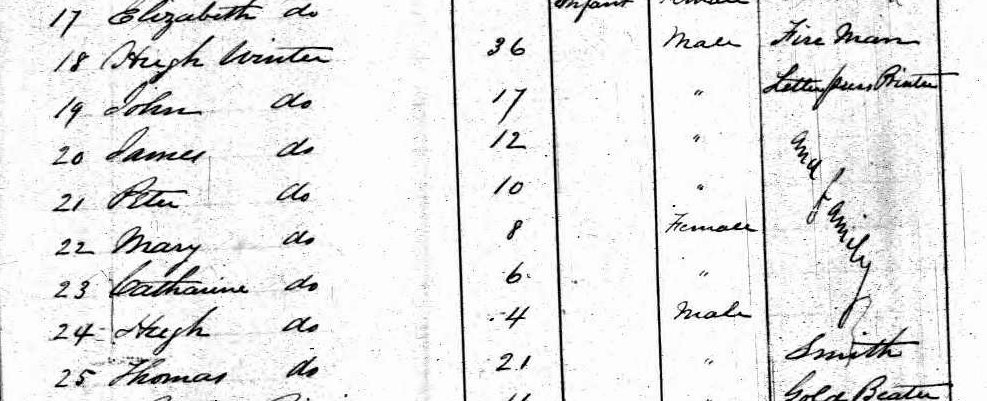 Passenger manifest, Pursuit, 12 June 1849. Passenger Lists of Vessels Arriving at New York, New York, 1820-1897. Microfilm Publication M237, 675 rolls. Records of the U.S. Customs Service, Record Group 36. National Archives at Washington, D.C. Year: 1849; Arrival: New York, New York; Microfilm Serial: M237, 1820-1897; Microfilm Roll: Roll 080; List Number: 706. Ancestry.com. New York, Passenger Lists, 1820-1957 [database on-line]. Provo, UT, USA: Ancestry.com Operations, Inc., 2010.
Mary's mother and sister Margaret apparently traveled separately, but the whole family was together in Brooklyn, New York by 1850.

1850 United States census, Brooklyn Ward 10, Kings County, New York, population schedule, p. 131A. Ancestry.com. 1850 United States Federal Census [database on-line]. Provo, UT, USA: Ancestry.com Operations, Inc., 2009.
In 1855, Mary was a servant in the home of John and Mary Blair. Her mother had apparently died by this time.

New York State Census, 1855, database with images, FamilySearch (https://familysearch.org/ark:/61903/1:1:K6W3-Z9M : 19 November 2014), Mary Winters in household of John Blair, E.D. 2, Ward 12, Brooklyn City, Kings, New York, United States; count clerk offices, New York; FHL microfilm 1,930,199.
Mary died on 12 September 1876 in Charity Hospital, Blackwell's Island, New York, New York. The causes of death were phthisis (pulmonary tuberculosis) and alcoholism. Asthma was a contributing cause. She was buried in Holy Cross Cemetery, Brooklyn, New York.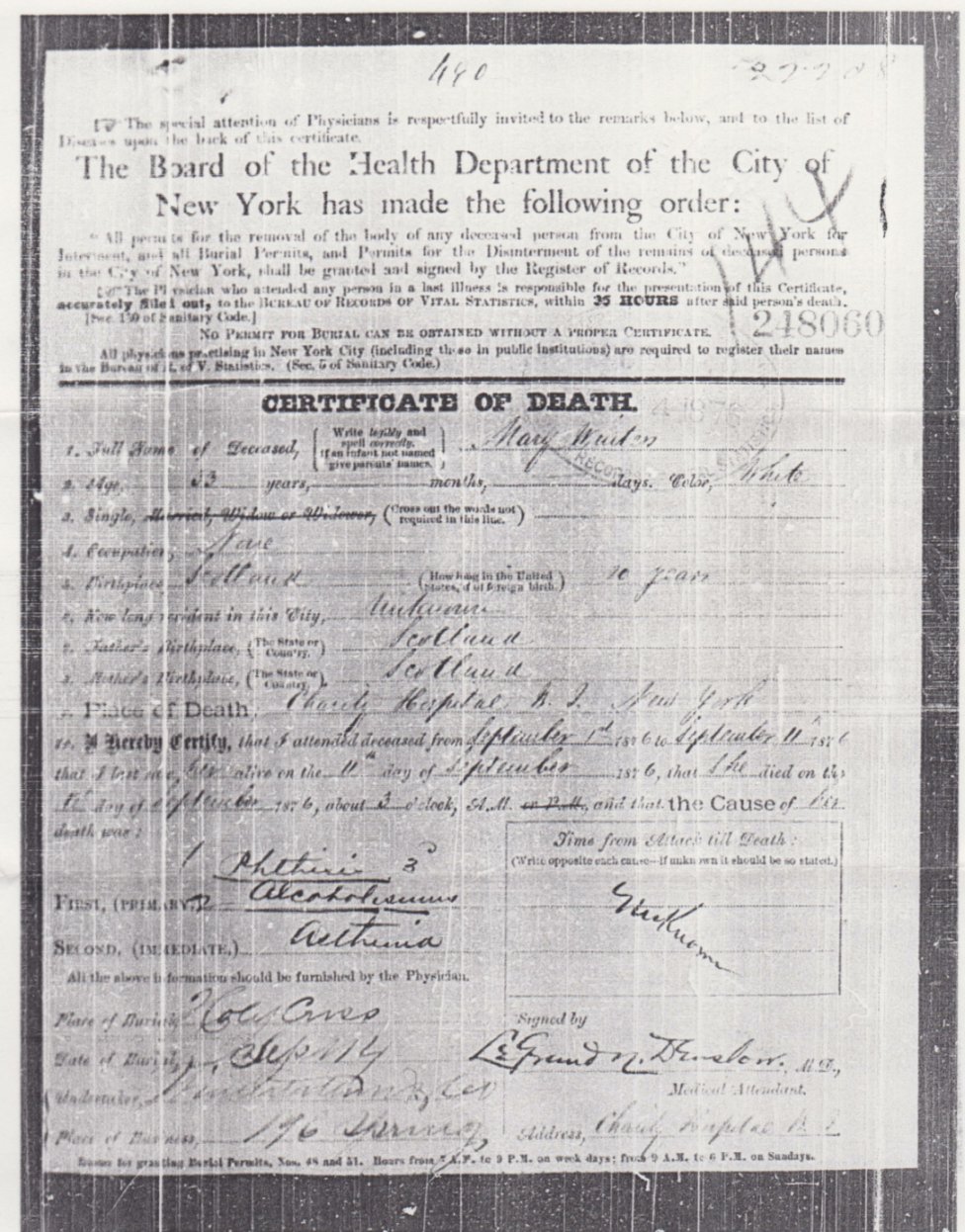 New York, New York. Board of the Health Department. Death certificate no. 248060, Mary Winters, 1876.