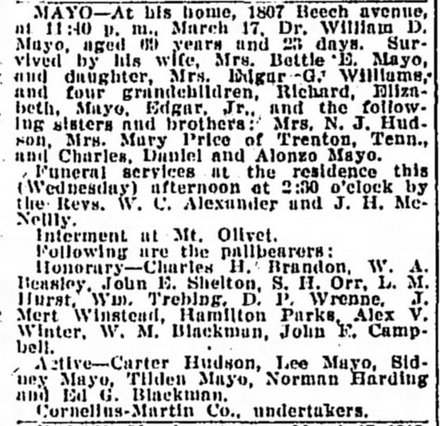 Nashville Tennessean, 19 March 1919, page 15
MAYO
––At his home, 1807 Beech avenue, at 11:40 p.m., March 17, Dr. William D. Mayo, aged 69 years and 23 days. Survived by his wife, Mrs. Bettie E. Mayo, and daughter, Mrs. Edgar G. Williams, and four grandchildren, Richard, Elizabeth, Mayo, Edgar Jr., and the following sisters and brothers : Mrs. N. J. Hudson, Mrs. Mary Price of Trenton, Tenn., and Charles, Daniel, and Alonzo Mayo.
Funeral services at the residence this (Wednesday) afternoon at 2:30 o'clock by the Revs. W. C. Alexander and J. H. McNeilly.
Interment at Mt. Olivet.
Following are the pallbearers:
Honorary––Charles H. Brandon, W. A. Beasley, John E. Shelton, S. H. Orr, L. M. Hurst, Wm. Trebing, D. P. Wrenne, J. Mert Winstead, Hamilton Parks, Alex V. Winter, W. M. Blackman, John E. Campbell.
Active––Carter Hudson, Lee Mayo, Sidney Mayo, Tilden Mayo, Norman Harding and Ed G. Blackman.
Cornelius-Martin Co., undertakers
.
William Daniel Mayo was born on 22 February 1850 in Tennessee. He was the son of
Samuel Lee Mayo
(my 3rd-great-grandmother
Angeline Mayo
's brother) and Amanda Ezell. He married Elizabeth "Bettie" Eves on 8 November 1876 in Davidson County, Tennessee. Their daughter Jennie Mayo was born on 19 July 1878. Their son Robert Lee Mayo was born in 1880, but died on 15 May 1881. Their son William Daniel Mayo Jr. was born on 27 February 1882, and died on 29 January 1901.
William worked as a druggist, and in the insurance and real estate business. He was a director of the Commercial National Bank of Nashville.
He died in Nashville, Tennessee on 17 March 1919.