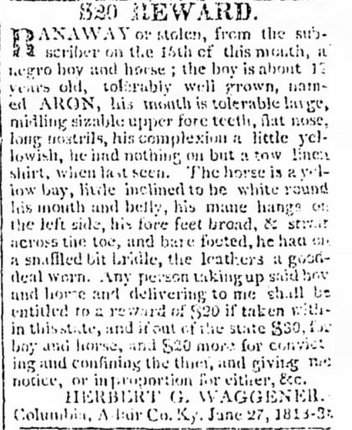 Nashville Whig, 4 July 1818, page 4


R
ANAWAY or stolen, from the subscriber on the 15th of this month, a negro boy and horse ; the boy is about 17 years old, tolerably well grown, named ARON, his mouth is tolerable large, midling sizeable upper fore teeth, flat nose, long nostrils, his complexion a little yellowish, he had nothing on but a tow linen shirt, when last seen. The horse is a yellow bay, little inclined to be white round his mouth and belly, his mane hangs on the left side, his fore feet broad, & s[?] across the toe, and bare footed, he had on a snaffled bit bridle, the leathers a good deal worn. Any person taking up said boy and horse and delivering tho me shall be entitled to a reward of $20 if taken within this state, and if out of the state $30, for boy and horse, and $20 more for convicting and confining the thief, and giving me notice, or in proportion for either, &c.
HERBERT G. WAGGENER
Columbia, Adair Co., Ky. June 27, 1818-3t
Herbert G. Waggener was a Baptist preacher. The
Herbert Green Waggener Timeline
provides more information on him and his slaves.