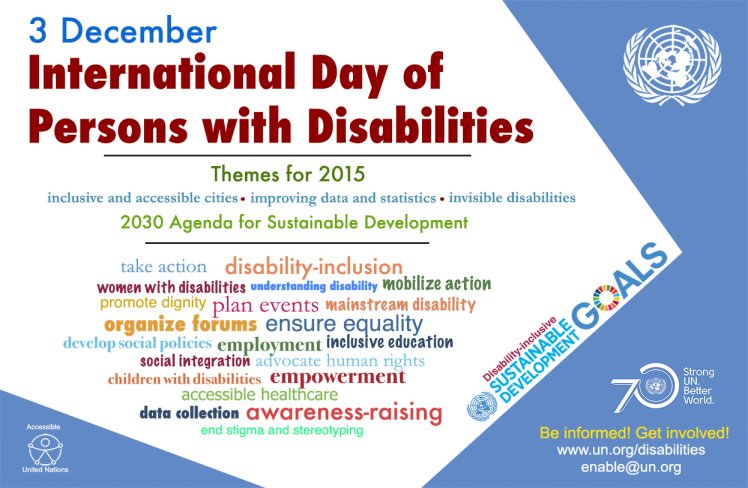 United Nations International Day of Persons with Disabilities poster, 2015. Available from http://www.un.org/disabilities/documents/idpd_poster_2015.jpg
December 3 is International Day of Persons with Disabilities. The day has been observed by the United Nations since 1992. The theme for 2015 is "Inclusion matters."
People with disabilities are part of our family history, and we should be sure to include them. My
2nd-great-grandfather
's brother Petter Troedsson (31 January 1855 - 27 October 1908) was listed as
idiot krympling
in Swedish household examination records. His mother was 38 years old when he was born; he may have had Down syndrome. According to the 1850 and 1860 United States Censuses, my 5th-great-grandmother Obedience (Lucas) Gatlin was blind. She was in her 60s and 70s at the time of the censuses; I am not sure when her blindness began. My 4th-great-grandfather
Hugh Winters
was listed as blind in the 1880 United States Census and was also enumerated in the
Defective, Dependent and Delinquent schedule
. William A. Paley, the husband of my
maternal grandfather
's sister
Geraldine Boe
, lost the use of his legs as a result of a circulation ailment. The "Flag of the Day" news item in the 30 August 1966 issue of the
Chicago Tribune
noted that for the last ten years, he had seen that the flag was displayed at his home every morning, and that he worked as an assistant to the music director at Columbia Broadcasting System. He seems to have focused on his abilities, not his disabilities.
References
International Day of Persons with Disabilities
UN Enable - International Day of Persons with Disabilities, 3 December 2015