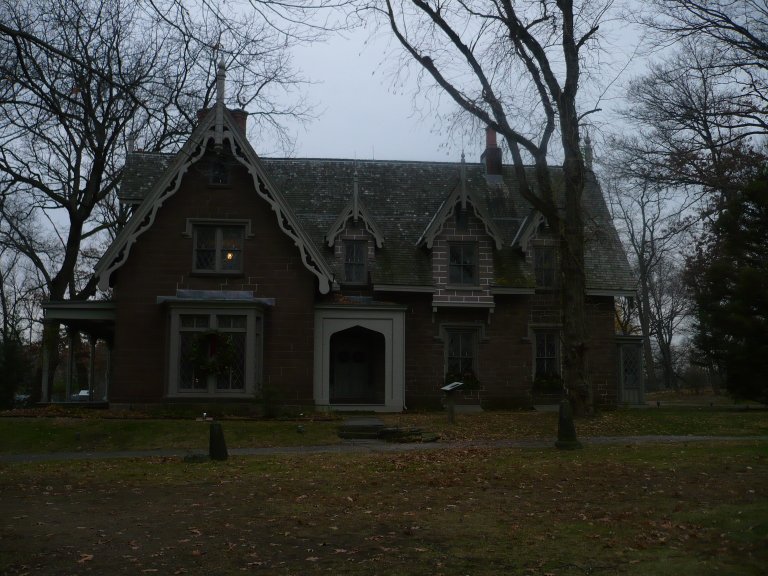 Today I visited the Hermitage in Ho-Ho-Kus, Bergen County, New Jersey. The house was named a National Historic Landmark because of its Gothic Revival architecture. It was added to the National Register of Historic Places in 1970, and to the New Jersey Register of Historic Places in 1971.
The home was originally purchased by Ann Bartow DeVisme in 1767. She and her five children moved from Manhattan to Ho-Ho-Kus. Her daughter Theodosia Bartow had married James Marcus (or Jacques Marcus) Prevost in 1763, and the couple lived in another house on the property. During the Revolutionary War, Prevost was away fighting in the British Army. Theodosia remained at the Hermitage with her family.
George Washington and his troops stayed on the grounds of the Hermitage from July 10-14, 1778, at Theodosia's invitation. Other visitors to the Hermitage included Alexander Hamilton, James Monroe, the Marquis de Lafayette, and Aaron Burr.
James Marcus Prevost died in Jamaica in 1781. In July 1782, Theodosia married Aaron Burr at the Hermitage.
In 1807, Dr. Elijah Rosegrant (Rosencrantz) purchased the Hermitage and built a cotton mill on the property. In 1847, he had architect William Rantlett construct a Victorian house which incorporated the original home. The house was remodeled in the Gothic Revival stylr, and additional wings were added.
The house remained in the Rosencrantz family for four generations. In 1970, Mary Elizabeth Rosenkrantz willed the Hermitage to the State of New Jersey. It is now a house museum.
References
The Hermitage (Ho-Ho-Kus, New Jersey)
The Hermitage Museum
Jacques Marcus Prevost