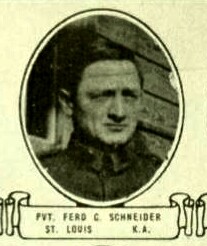 Photo from page 165, Missouri - Soldiers of the Great War, compiled by W. M. Haulsee, F. G. Howe, and A. C. Doyle. Washington, DC: Soldiers Record Publishing Association, 1920. Available online at http://www.usgwarchives.net/mo/wwi/missourisoldies-greatwar.htm.
Ferdinand Constand Schneider was the son of my great-great-grandfather's brother John William (Johann Wilhelm) Schneider and Caroline Uhlik. He was born in St. Louis, Missouri on 4 November 1887. He and his older brother Carl Joseph (named after his uncle, my great-great-grandfather) were the first generation born in the United States; their father was born in Erpel,
Neuwied, Rheinland, Germany and their mother was born in Bohemia.
On 5 June 1917, Ferdinand registered for the World War I draft. At that time, he lived at 1316 Geyer Ave. in St. Louis and was a foreman at
St. Louis Cordage Works, Menard & Soulard. His
draft card
noted that one of his fingers was cut at the first joint. In the 1909 St. Louis city directory he had been listed as a cutter; perhaps he had an accident at work.
Details of Ferdinand's service are provided in
World War I Biography and Service Records: Persons Who Enlisted in St. Louis City and County
.
Addenda: Those Who Died in Service
(Missouri Historical Society, 1995). Ferdinand joined the United States Army on September 19, 1917 and was a private in Company I, 354th Infantry. On March 16, 1918 he was transferred to Company G, 38th Infantry 3rd Division, where he was a private and machine gunner. A newspaper clipping in the Missouri Historical Society publication stated that "his last letter derides the Germans for their inaccuracy in shooting. He said that they merely pull the trigger and trust to luck to have the bullets take effect."
Unfortunately the bullets took effect on 15 July 1918 at the Battle of Château-Thierry (Aisne, Picardy, France), when Ferdinand was killed by shell fire. The son of a German immigrant had died fighting against the Germans. His body was transported back to the United States, and he was interred in Jefferson Barracks National Cemetery in Oakville, St. Louis County, Missouri on the fourth anniversary of his death.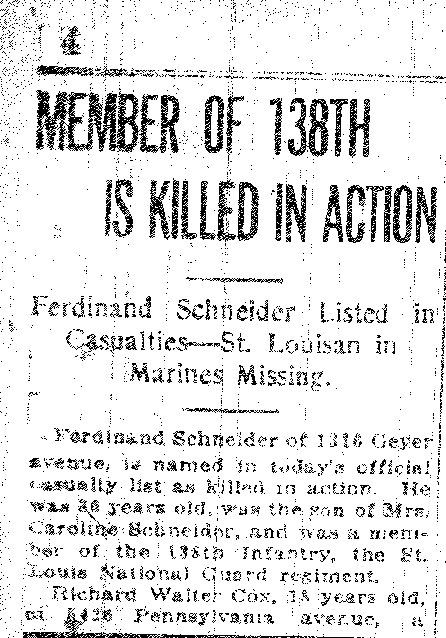 St. Louis Post-Dispatch, 26 September 1918, p. 4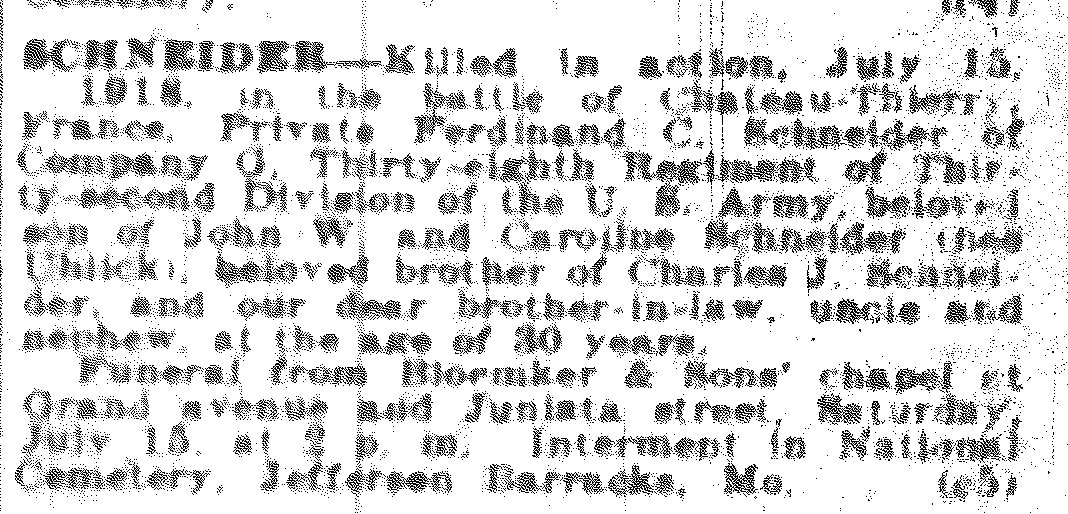 St. Louis Post-Dispatch, 12 July 1922. p. 19