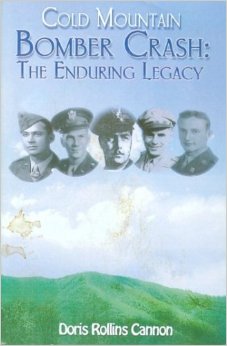 Cannon, Doris Rollins. Cold Mountain Bomber Crash: The Enduring Legacy. Printed by Edwards Brothers, 2005. ISBN: 0-9772101-0-3
On Friday, 13 September 1946, B-25 bomber 227 crashed on Cold Mountain, Haywood County, North Carolina. Five World War II heroes were killed instantly in the crash:
Major General
Paul Bernard Wurtsmith
, the youngest general in the Army Air Force, pilot
Lieutenant Colonel
Fred Logan Trickey, Jr
., co-pilot
Lieutenant Colonel
Paul Richard Okerbloom
, air inspector
Master Sergeant
Hosey William Merritt
, radio operator
Staff Sergeant
Hoyt Woodrow Crump
, flight engineer
In Part One, Cannon gives an account of the crash. In Part Two, she tells the stories of the five men who died. In Part Three, she writes about the impact the crash had on others.
This book is of particular interest to me because Fred Logan Trickey, Jr. was the husband of Peggy Lorraine Clark, my second cousin once removed.
More information about the book is available at
http://coldmountainbombercrash.blogspot.com/
.