My 3rd-great-grandfather Davidson Binkley was born on 12 November 1831 or 1832 in Springfield, Robertson County, Tennessee. According to a family group sheet compiled by P. C. Lampley, his full name was Benjamin Davidson Binkley. The information on the family group sheet came from the family Bible of Davidson Binkley's granddaughter Laura Belle (Tarkington) Leech and from family members.
In 1850,
Davidson
and his brother
Patterson
lived in Davidson County, Tennessee in the home of
William T. Garrett
. His brothers
Robertson
and
Turner
and their wives lived in a nearby household. His mother
Fanny
, brother
Montgomery
, and sister
Martha
also lived nearby, in the household of
Andrew Sullivan
. Davidson obtained a license to marry Angeline Mayo on 19 January 1853. Angeline (Mayo) Binkley's Civil War widow pension application file includes a statement that the couple were married at the home of Jacob D. Mayo (Angeline's father) on Whites Creek, Davidson County, Tennessee by J. P. Garrett on 20 January 1853.
On 28 September 1853, Davidson and Angeline's first child, Sara Elizabeth, was born, but she did not live long; she died on 11 October 1853. Their second child, Louise Jane, was born on 15 November 1854, and died on 18 November 1855. The children's birth and death dates came from the family group sheet compiled by P. C. Lampley. The couple's third child and first son, William Searcy Binkley, was born on 15 June 1856. The family moved to Illinois before the birth of their next child, Anna Malvina (my great-great-grandmother) on 19 December 1858. In
1860
, the family was living in Township 9 Range 2 E, Williamson County, Illinois. Davidson was a farmer, and the value of his personal estate was $300.The couple's second son, James Rutherford Binkley, was born on 12 February 1861.
Davidson Binkley's
Illinois Civil War Detail Report
provides information about his military service. He joined the Union Army on 26 September 1862 at
Camp Butler, Illinois
, and he mustered in at Camp Butler on 5 November 1862. A 14 May 2008
Illinois Times
article on Camp Butler calls it
Camp Misery
because it was overcrowded and there was so much disease.
Davidson was a private in Company G,
128th Illinois Infantry
. The
Marion Illinois History Preservation
Web site provides information about this regiment.
Robert M. Hundley
was the regiment's colonel. Most of the residents of Williamson County, Illinois had come from Kentucky, Tennessee, or North Carolina, and many people sympathized with the southern cause. The loyalty of the regiment was questioned, and they were called the "Whang Doodle Regiment." The regiment was disbanded on 1 April 1863 after it had lost more than 700 men, mostly from desertion. Davidson Binkley was not one of the deserters. He remained loyal, and he served with his unit until 9 January 1863, when he died of measles in Cairo, Alexander County, Illinois. He was buried in
Spiller Cemetery
in Williamson County, Illinois.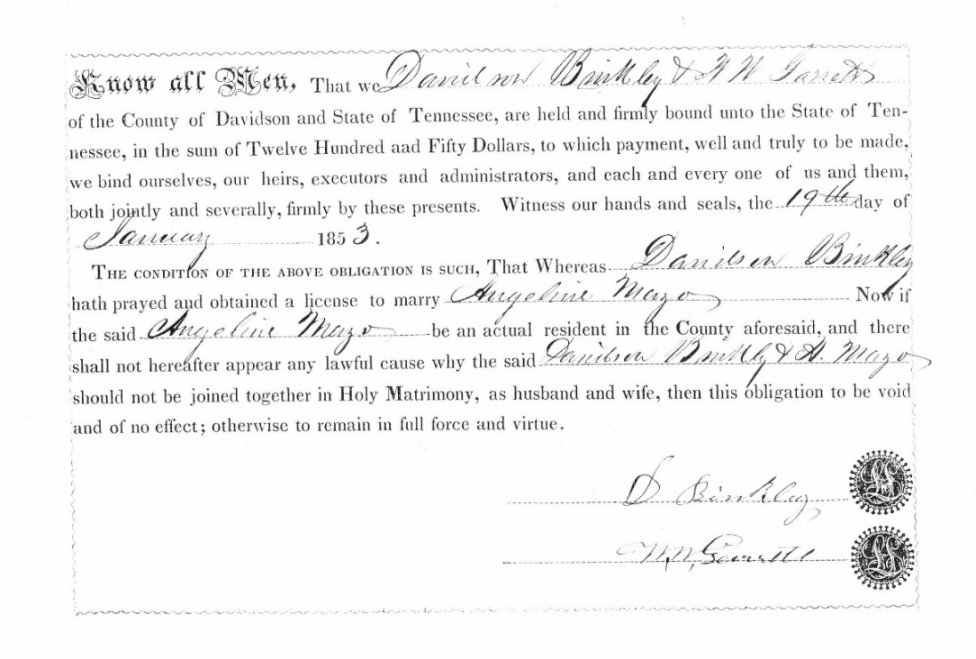 Marriage license for Davidson Binkley and Angeline Mayo, 19 January 1853. Nashville, Tennessee: Metropolitan Government Archives.