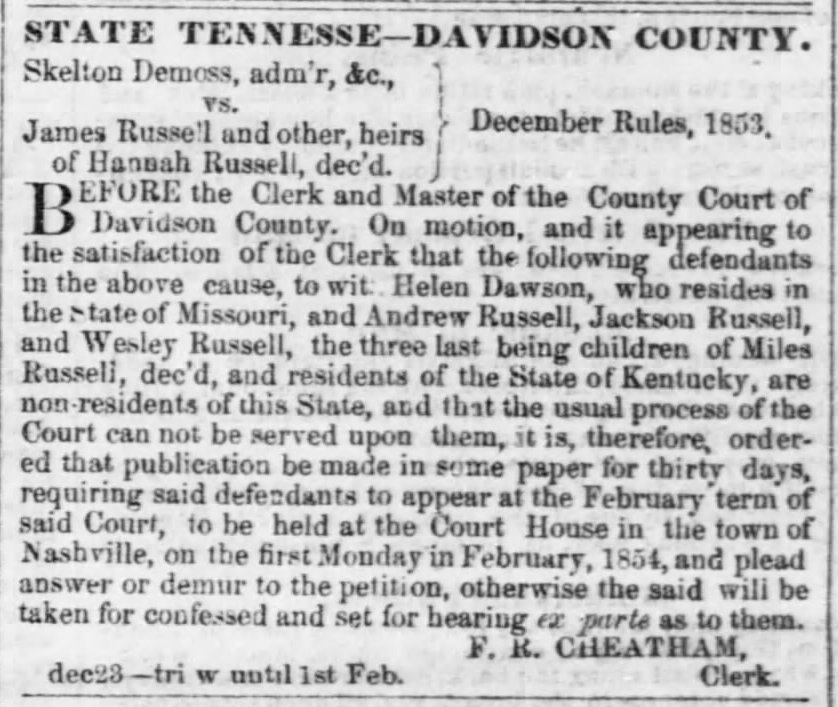 Nashville Union and American, 22 December 1853, page 2
My 5th-great-grandmother
Hannah (Hardgrave) Russell
died in 1853. Skelton Demoss was the administrator of her estate. Some of her heirs were not residents of Tennessee, so they could not be served by the County Court of Davidson County, Tennessee. Her daughter Helen (Russell) Dawson was living in Missouri. Her son Mills Russell (incorrectly listed as Miles in the notice) had died in 1852, but he had three sons in Livingston County, Kentucky: Andrew Russell, John D. Russell, and Wesley Russell.
A notice was published in the
Nashville Union and American
, beginning on 22 December 1853 (the beginning date given at the bottom of the notice is December 23, but the newspaper issue that the notice appears in is dated December 22). The last notice was published on 9 February 1854. Mills Russell's sons and Helen Dawson were asked to appear at the courthouse in Nashville on the first Monday in February 1854 (6 February 1854).