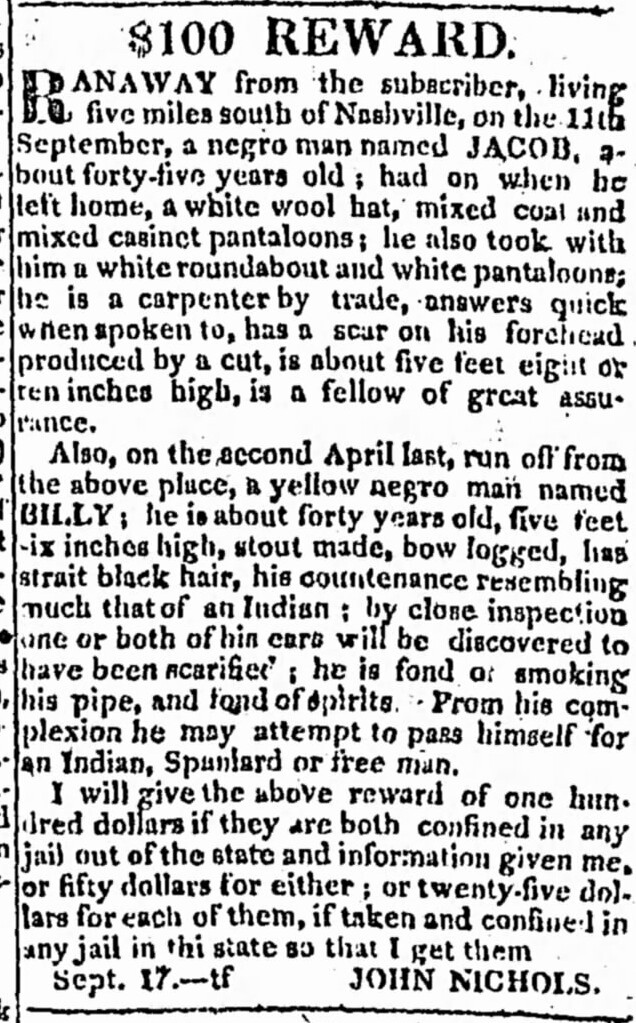 Nashville Whig, 31 October 1825, page 1
R

ANAWAY
from the subscriber, living five miles south of Nashville, on the 11th September, a negro man named JACOB, about forty-five years old ; had on when he left home, a white wool hat, mixed coat and mixedcasinet pantaloons ; he also took with him a white roundabout and white pantaloons; he is a carpenter by trade, answers quick when spoken to, has a scar on his forehead produced by a cut, is about five feet eight or ten inches high, is a fellow of great assurance.
Also. on the second April last, run off from the above place, a yellow negro man named BILLY ; he is about forty years old, five feet six inches high, stout made, bow legged, has strait black hair, his countenance resembling that of an Indian ; by close inspection one or both of his ears will be discovered to have been scarified ; he is fond of smoking his pipe, and fond of spirits. From his complexion he may attempt to pass himself for an Indian, Spaniard or free man.
I will give the above reward of one hundred dollars if they both are confined in any jail out of the state and information given me, or fifty dollars for either ; or twenty-five dollars for each of them, if taken and confined in any jail in this state so that I get them.
Sept. 17.––tf JOHN NICHOLS.