Richard Owen and Jabez Owen, Jr. were the sons of Jabez Owen, a wealthy planter and physician in Williamson County, Tennessee.

1850 United States census, District 15, Williamson County, Tennessee, population schedule, page 295B, family 981. Ancestry.com. 1850 United States Federal Census [database on-line]. Provo, UT, USA: Ancestry.com Operations, Inc., 2009.
Jabez Owen, Sr. purchased Forge Seat (also known as the Samuel Crockett House) from Samuel Crockett in the 1830s. The house is located in Brentwood, Williamson County, Tennessee.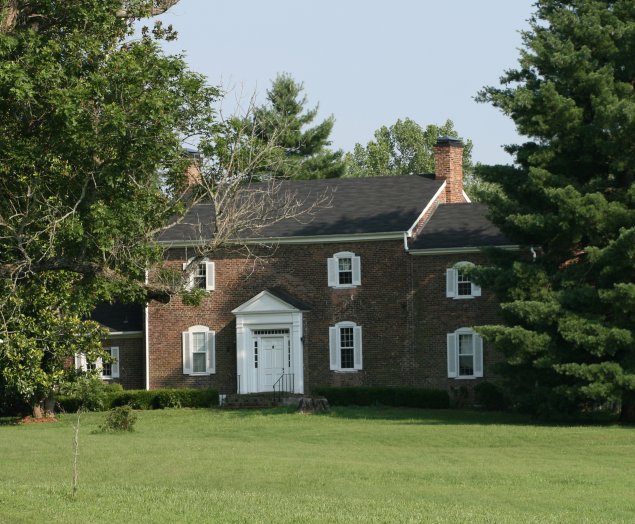 Forge Seat, Brentwood, Tennessee. Photo by Concord715 (Own work) [CC1.0 public domain]. Available from Wikimedia Commons.
Richard had been jailed for murder in the 1840s. In 1849, his wife Mary (Temple) Owen sued him for divorce. She claimed that he drove her from their home and it was not safe for her to return. She also accused him of adultery. She asked for custody of their children.
On 4 August 1852, Richard and Jabez Jr. got into a fight. Jabez stabbed Richard with a knife. Richard died a few minutes later. The Franklin, Tennessee newspaper
Western Weekly Review
reported that the incident took place at Owen's shop.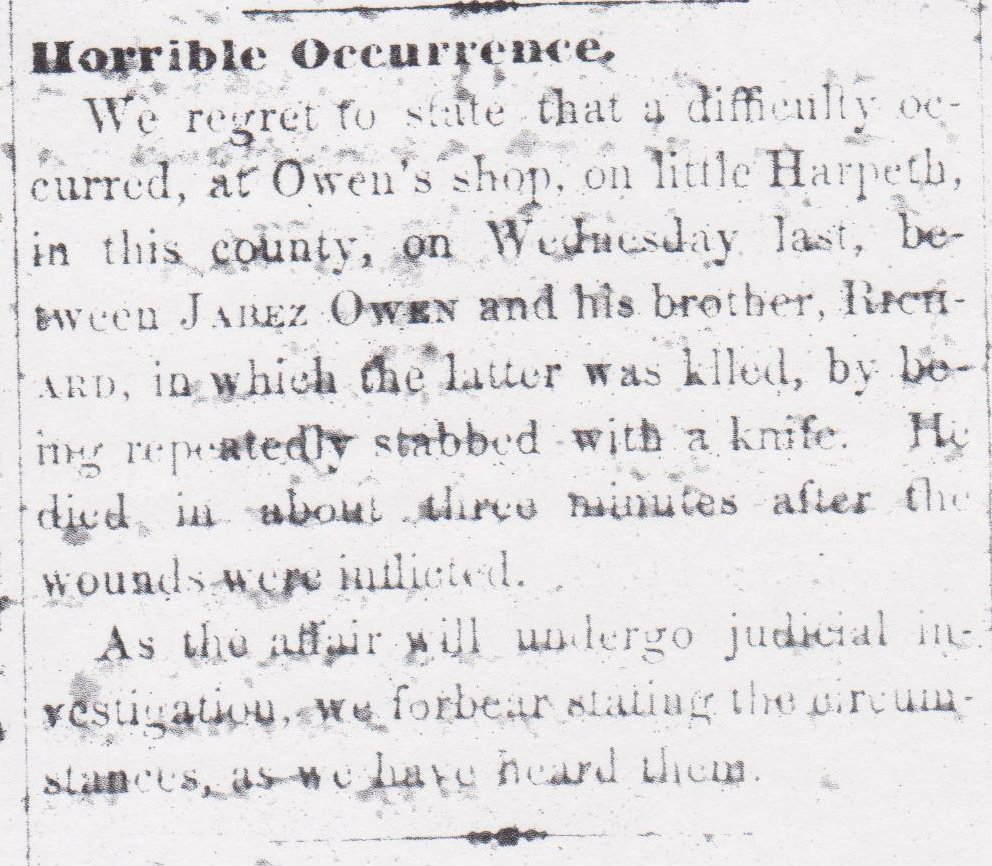 Western Weekly Review (Franklin, TN), 6 August 1852, page 2
Later sources report that Richard was killed in an upstairs room at Forge Seat. Perhaps the shop was located at the family's home.
References
Hill, Laura. "Historical Resting Place."
The Tennesseean
, 11 Apr 1997, pp. 1W, 4W.
"Horrible Occurrence."
Western Weekly Review
, 6 Aug 1852, p. 2.
"Owen Man Killed By Brother." In Little, T. Vance.
Murder on the Wilson Pike
. Brentwood, TN: JM Productions, 1996, pp. 21-22.
"Williamson Bicentennial Moment: Forge Seat, 1502 Wilson Pike, Brentwood."
The Tennesseean
, 11 Feb 1999, p. 2W.