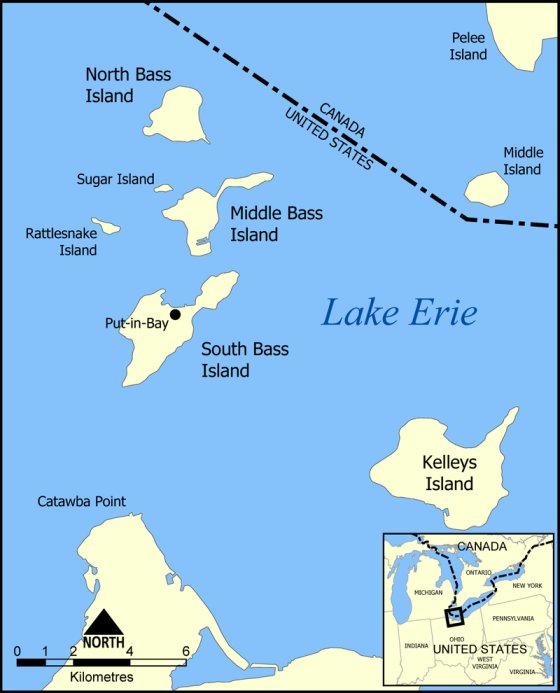 Map of the Bass Islands in Lake Erie. By NormanEinstein CC BY-SA 3.0 (http://creativecommons.org/licenses/by-sa/3.0). Available from Wikimedia Commons.
This map shows the location of the Bass Islands, which are in the western half of Lake Erie, and are part of Ottawa County, Ohio.
My 5th-great-grandfather
Andrew Russell
was a private in Tunstall Quarles' Company of Infantry,
2nd Regiment Kentucky Volunteer Militia
during the War of 1812. His regiment formed on 1 September 1812. By mid-September, they reached General William Henry Harrison's headquarters in St. Marys, Ohio. They then proceeded north and began the construction of
Fort Jennings
. After the fort was completed, the regiment remained on garrison duty for a few months. They then headed north to
Put-in-Bay
, which is located on South Bass Island. The U.S. had suffered defeats in and near the western Lake Erie area at the beginning of the war. Andrew's regiment may have been sent north to help increase the U.S. military presence in the area. They were eventually sent back to Cincinnati because their term of service was coming to an end. I am not sure how much time Andrew spent in Put-in-Bay. South Bass Island has been called the "
Key West of Lake Erie
," but surely it did not seem that way to Andrew and the other men during the winter of 1813.