On 1 October 1914, my
great-grandfather
's brother John Reynold Gatlin began a drive from Chicago, Illinois to Indiana, where his (and my great-grandfather's) older sister Mary Florence (Gatlin) Pate lived. His friend Charles Harris accompanied him on the trip. Two other men that Charles Harris knew joined them while they were still in Chicago. When they were near Lafayette, Indiana, John was beaten by the three men and thrown out of the car. In addition to the car, the men stole a diamond stud and $103.
I suspect that there may be more to the story. John had been in trouble with the law before.
The car belonged to John's brother-in-law William K. Wells. I am still trying to determine how the two men were connected. John's older sister was married to Downie Campbell Pate. His other sister Anna was married to Frank Joseph Smith at that time. In
1920
, John was enumerated in the United States census with his apparent wife
Ermer
, but her age was given as 21. He had at least two subsequent marriages. On his
World War I draft registration card
, John stated that he was single. William K. Wells' sister could be an unidentified wife.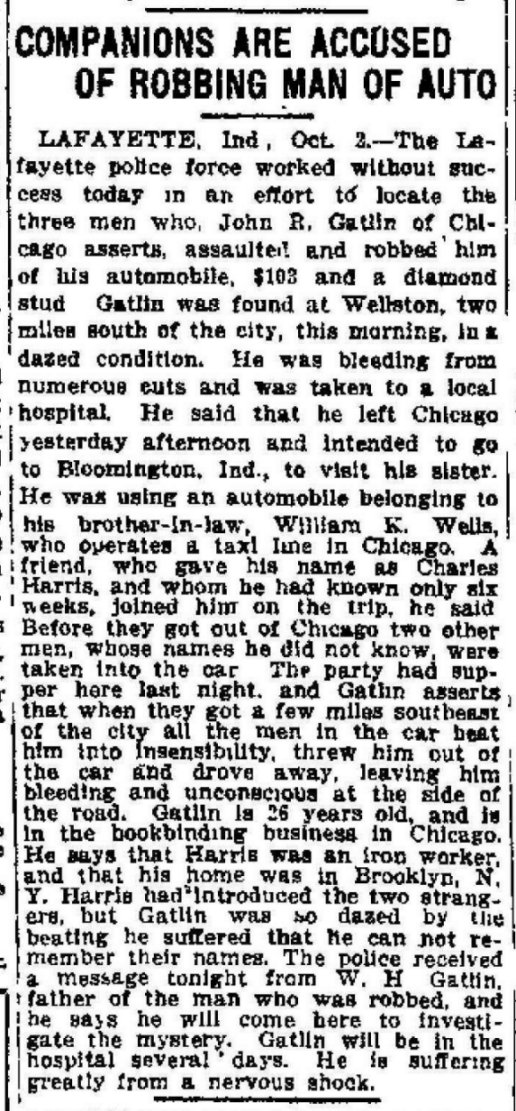 Indianapolis Star, 3 October 1914, page 4