According to her death certificate, my 2nd-great-grandmother
Catherine Elizabeth (Winters) Graham Mapplebeck
died of coronary sclerosis due to chronic nephritis on 4 March 1942.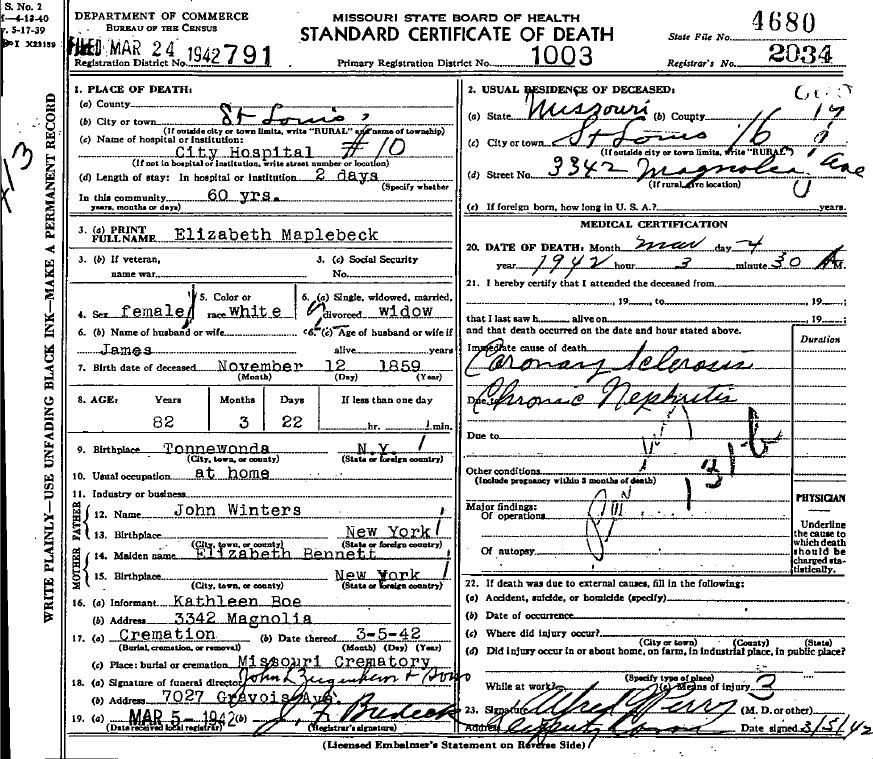 Elizabeth Maplebeck death certificate. Missouri State Board of Health
.
She was 80 years old, so the cause of death seemed quite plausible. I never suspected that there was more to it until I visited the Hayner Public Library District's Genealogy & Local History Library in Alton, Illinois, where Elizabeth and her children had lived for a time. I searched the digitized newspaper collection and came across a brief item from the 5 March 1942 issue of the
Joplin Globe
entitled "Two St. Louis Women Overcome by Smoke, Die." One of the women was Elizabeth Mapplebeck!
I went to the St. Louis County Library to look for more information. At that time, I did not have access to the digital archives of the
St. Louis Post-Dispatch
, so I looked through the microfilm. The 3 March 1942 issue of the
St. Louis Post-Dispatch
contained more details ("Invalid Perishes in Nursing Home Fire; 9 Overcome," p. 3.). A fire had broken out at the Brantwood Nursing Home in Lemay, St. Louis County, Missouri. The nursing home had opened about four months previously, and had no outside fire escape. The fire started near the motor for the electric icebox. One man, Henry Kern, died of asphyxiation an hour after he was taken to the hospital. Five others had been carried out while unconscious, but had been revived. Three people were stated to be in serious condition. Elizabeth Mappleback was at the hospital, but was not considered to be in serious condition. However, the next day, her death was reported ("Woman, 82, Second Victim of Lemay Hospital Fire."
St. Louis Post-Dispatch
, 4 March 1942, p. 7C. )
It is strange that there was no mention of anything related to the fire on her death certificate. She must have suffered from smoke inhalation. Perhaps the stress of the experience brought on a heart attack.